I'm Jerry Scott. I've been on the radio (off and on) since 2002. While I'm mainly known as a Rock DJ as that is my favorite genre, I also grew up on country music and really enjoy playing Today's Best Country afternoons on WDHR!
I was born in 1980 here in Pikeville, so I grew up with George Strait, Waylon Jennings, Johnny Cash and other classic artists. In the '90's I loved Dwight Yoakam, Garth Brooks, Sammy Kershaw, and Alan Jackson. As for today's artists, I love The Brothers Osbourne, Chris Stapleton, Chris Janson, Midland, and many more.
I'm just a 41 year old DJ who is happy to have a home with my wife Natalie, our daughter Alice, and our dog Nanook and cat Heidi. I'm a diehard Los Angeles Lakers fan and I love the Pittsburgh Steelers. A perfect evening is sitting around and watching a scary, funny, or action-packed movie at home….but I have a one year old so it's mostly cartoons.
Tune in with me M-F! We'll have a good time!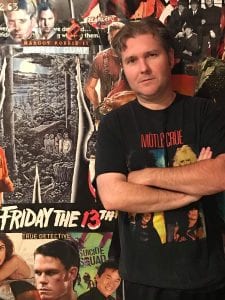 Mon-Fri | 2p-6p